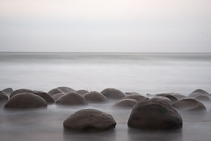 Light, Tides and Tics
Bowling Ball Beach is elusive. It hides from you. Then gets aggressive. There is no El Capitan or Watchman, always at attention, ready to be photographed. No! Here the trio - the beach, the bowling balls and the ocean – conspire with the sun and costal fog in a five-way dance, with each member assuming an equal role to make a photographer's journey, if not miserable, then at least difficult, wet, frustrating and photographically Blah.
My last several trips to the beach went thus:
1) Couldn't find it.
2) Found the beach (I think), but bowling balls way deep under very high ocean tide.
3) I got the message – went at low tide and found, stranded far from the beautiful ocean waters, hundreds of bowling ball-sized rocks mixing with all the beach crud normally seen along ocean shore lines. The chaos of this mixture of large/small, organic/non-organic, conflicting colors, wet/dry was too much for me, at least, to turn into anything pleasing (except for a few generic close-up patterns). The sunset light decided to tease me, glowing wonderfully on this scenic disaster.
4) Trying to hone in, picked a lesser (higher) low tide. I was getting close, so the fog came in, blocking much of the sun. A few of the bowling balls stayed half-submerged, but far too many remained stranded at the end of the lane (beach), not yet having been returned to sea for the start of the next frame. Minimal photographic success.
5) I think I've got it down. Picked a 2.75 – 3.0 low tide at sunset. Now the players all got mad. Day was to be nice – instead thick fog and absolutely no color into the early evening. The rocks were mostly partially submerged – perfect – but SLICK. Nope, refused to hold my tripod. The ocean? Hung back nicely while I set up, screwed on my ND filter and opened the shutter for a 2-minute exposure. After 45 seconds came crashing in on me, up to my knees, grabbing tripod, wasted effort. It knows.
What about the tic? Having struggled down the trail and ladder carrying my equipment, setting up and beginning the saga, my forearm began to hurt quite intensely. I "un-layered" and OMG – a big-A tic was burrowing into that sweet soft tissue. I got him out with difficulty, wondering how the heck he got in there. Did he have brothers?
Still I have one last trip in me (or maybe more). I think a 2-2.5 low tide at sunset (a "real" sunset if possible) – will do it. I am waiting. Maybe the dancers, now that they know me better, will show some mercy.
I have decided to put up some up my shots to date (
just updated
), and as I get better ones I promise to replace my current group, 1 for 1. But seeing my failures somehow gives me the motivation to go back, go back, go back………..
PS - I'd appreciate any comments about successful excursions to BB Beach, or any helpful Tic advice.